what is trens
01
trens
solar trains
as People mover
The 100% electric Trens Solar Train carries 60 passengers comfortably while driving on existing streets, regardless of the street surfaces. No road is too narrow, not a curve is too sharp and no slope is too steep.
The Trens Solar Train provides comfortable passenger transport in historic city centres, on boulevards, or on routes to park-and-ride (P+R) facilities on the outskirts of inner cities, on the premises of nature and event parks and Business Centres.
Passengers and pedestrians are instantly aware of the environmental-friendly character of the Trens Solar Train: No noise, no air pollution.

as city distribution vehicle
In addition the Trens Solar Train is ideally suited for city distribution: Large loads can be transported within a compact urban environment. From now on catering organizations and shops in inner cities, and even consumers in residential areas, are served by means of our electric vehicles (with no noise). The Solar Train actively contributes to a clean environment and is characterized by remarkably low operating costs.

100% Ecological = 100% Economic

for who
02
you want
to be the first
Passenger Transporter
You are an operator and want to keep up with developments and carry passengers in an eco-friendly manner.
Then we have good news: The Trens Solar Train is 100% electric! In addition, the operating costs are extremely low, while the reliability and deployability are maximized. The quality of on board-comfort is particularly high!

distributor
You deliver large goods and packages and you are actively involved in environmentally friendly transports. That's great: Governments are for accelerated replacement of existing diesel vans in inner cities with clean vehicles. The electrically powered Trens Solar Trains are extremely maneuverable and have wagons with exceptionally high load volumes. Delivery of store supplies could even take place during the night as the train drives without noise.

You want to become a customer
Then we have great news: We will determine which train configuration is best for your situation and together we can help to introduce ECO-friendly mobility.
Solar system
Range expanded up to 8 km per hour sunlight
The canopies of the tow tractor and passenger wagons of the Solar Train are all equipped with high-efficiency monocrystalline solar cells in environmentally friendly polymer-based solar panels.
In collaboration with a Dutch producer, these solar panels are designed to bring up 4000Wp per hour on a sunny day, which expands the driving range up to 8 km per hour sunlight.
The solar cells are laminated between two high-quality polymer panels. Compared to the glass solar panels, a weight reduction of as much as 60% is achieved.
Batteries
Energy for 300 km
The energy pack is capable to deal with instant large and long-term energy flows, in the circumstances of uphill movements as well as when driving downhill; in the latter case to regenerate energy. The high demands regarding safety, reliability, durability and flexibility led our team to modern maintenance free Li-ion (LiFePO4) batteries with a high quality battery management system. Battery configuration based on customer-specific needs. Optional: up to 300 km driving range.
Powertrain
Continuous traction for 20% slopes
The development of a power train especially designed for the Solar Train resulted in a continuous torque of 10000 Nm for a tow tractor. The powertrain is able to convey three wagons with a total of 90 passengers, either horizontally or bridging long steep slopes of up to 20%. By mounting a powerful electric motor and transmission in each wheel of the tractor, the traction is optimized and is very economical regarding energy consumption.
Comfort
Air suspension and plenty of legroom
An air-sprung suspension and the special cabin construction result into spacious legroom and great comfort for passengers and driver. A level control allows the wagons to be accessible for passengers in wheelchairs while the wagons even allow standing passengers. The wagon-layout is flexible, one can choose: either a U-shaped formation, or 5 banks placed one after the other. The unique construction of the suspension results into completely flat floors in the wagons ensuring safe passageway. As the electric motors are mounted on the steerable wheels of the tow tractor, the drive shaft and differential are not needed.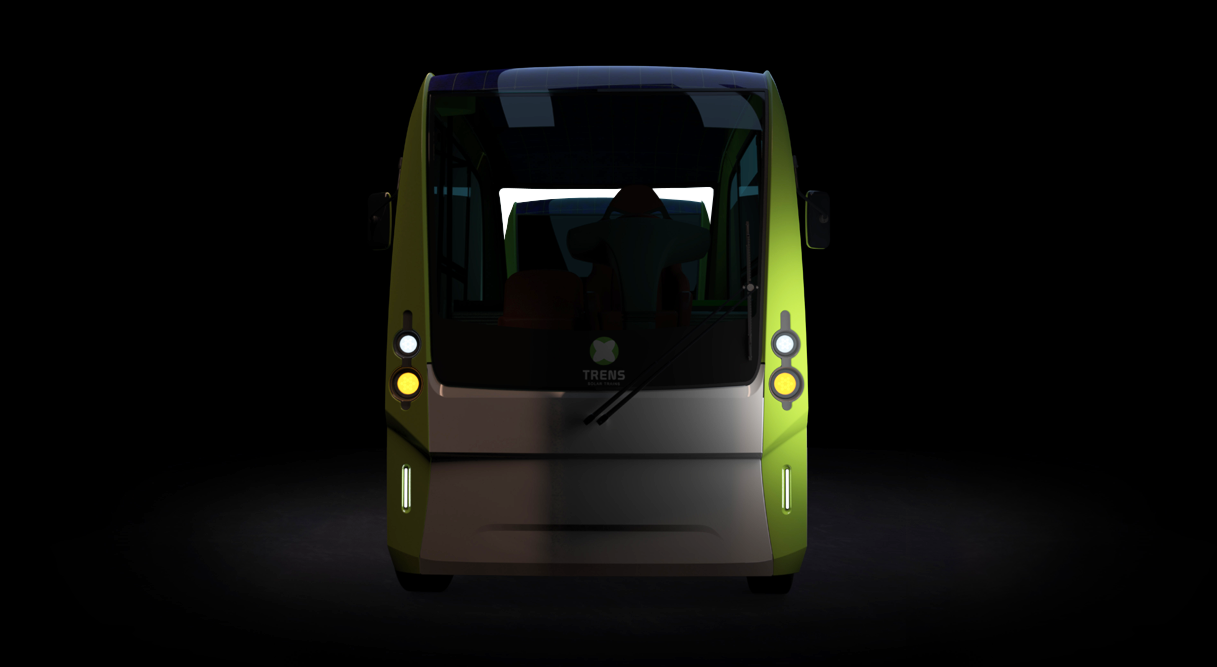 contact us
contact Trens
Any questions or comments? Please fill out our form completely. We will contact you as soon as possible.
For more information about the processing of your personal data by us and the rights you have, please refer to our privacy and cookie statement in the footer of this website.